Yesterday I had fun modifying a pattern for an adult barefoot sandal into a child version to fit Naomi's size 1 foot. I had posted a link to a group of patterns on our Facebook page the day before, and she had seen the article and asked me to make her a pair.
The pattern called for using floss or thread, but Naomi asked for me to make hers out of her favorite pink worsted weight acrylic yarn, and although there were smaller patterns available, she really liked one particular style. So first I followed the pattern using the worsted-weight yarn, and saw how it fit her foot. Then I modified the pattern to make it fit her much better.
I made a lot of notes on the original pattern, which can be found here. Eventually I decided to just write the steps out myself in a new pattern, since I was only keeping two heavily-modified steps from the original anyway.
Barefoot Beach Sandals for Size 1 Foot
Terms/Abbreviations:
Sc: Single Crochet
St: Stitch
Ch: Chain
Sl st: Slip stitch
Sk: Skip
Rep: Repeat
FO: Fasten off
Pattern (pink worsted weight yarn):
I used size F/5 (3.75mm) hook.
R1: 9 sc in magic circle. (9 sts)
R2: Sl st to first st in circle and ch 4. In ea st around, (sc, ch 4). (9 loops)
R3: Ch 1, sl st into first loop. (Ch 10, sk one loop, sc in next loop. Sc in next loop.). Rep 3 times, ending with sl st into first sc. (3 large loops)
Toe loop:
Ch 20. Sl st into 12th st from hook to make toe loop. FO and weave in end along chain.
Ankle ties (2):
At the left and right sides of the top loop, in the sc where the loop starts and ends, attach yarn via sl st and ch 25. Wrap yarn around hook and insert from the back/wrong side of the work to make the join less visible.  I also kept a long tail and crochet it along with the yarn for the first 5 sts or so, to make the join sturdier than if I had woven the end in. Knot off and trim or weave end in on chain. You will do this twice (one side and then the other). See pink arrows in picture below for reference of where to attach yarn for each tie.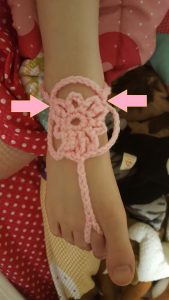 Pull magic circle tail so the center hole is as small as you want, then weave in end.
Please feel free to sell the sandals you've made, but please credit Crafty Reason and link back to the pattern here if you do so. Also, leave me a comment if you notice anything wrong with the pattern.
~Crafty Reba
Pattern © Crafty Reason. Please Contact Us for permission if you wish to reproduce any of our patterns.
---