My parents recently got a new cell phone (finally!), and they asked me to make a case just like the one I made for their Kindle last year. I had followed a really cute pattern for the Kindle, but when I tried to translate it to cell-phone proportions, it just didn't look as good to me. The little "dips" looked too busy with all the color changes I wanted to incorporate. So instead I made up a simpler pattern of my own.
Cell Phone Cozy
Terms/Abbreviations:
Ch: Chain
Hdc: Half Double Crochet
St: Stitch
Beg: Beginning (first stitch)
You will need:
Sizes H/8mm and G/4mm crochet hooks
worsted weight scrap yarn
button (optional)
yarn needle
scissors
Pattern Notes:
You will be crocheting in a continuous spiral–do not join with a slip stitch at the end of each row.
Measure the device you're making the cozy for when you make your starting chain, making sure you have an even number of stitches. You can decide whether to make it snug (sock-style) or looser (bag-style).
The button closure is especially helpful for the looser bag-style, but I use it for my snug sock-style cozy too.
Use a stitch marker at the end of each round if you want your color changes to line up. This is a great project for scrap yarn–I found it worked best to make 2-3 rows in each color, with one "main" color that I did 6  rows of.
I added a flower behind the button, the pattern for which can be found here.
I sewed the middle of some of the petals down so the flower didn't stick out quite as much.
My pattern fits a Samsung J3 2018. The finished cozy is 3.5 x 6″.
I use this tutorial for the seamless join.
Cozy Pattern:
R1: With H hook, ch 26, leaving a long tail for sewing, sl st to beg. (26)
R2-20: Hdc around, changing colors as frequently as desired. (26)
When your cozy has almost reached the desired height (when it is just below the top of your phone), sew on your button if you're using it, and switch to G hook. I sewed my button on around row 15, and I sewed the flower on first on that same row.
If you're using the button closure:
R21: With G hook, hdc enough sts until you're lined up with the button, then ch enough sts to make a loop to wrap around your button. On my cozy, I hdc 3 sts, then ch 25. Continue hdc in the next st (4th st in row on my cozy), hdc to end of row. (26)
If you're not using the button closure:
R21: With G hook, hdc around. (26)
Finish with the seamless join. Whip stitch the bottom closed.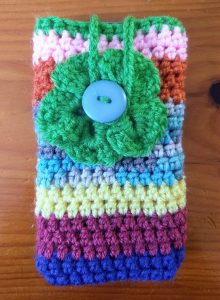 Please feel free to sell the cozies you've made, but please credit Crafty Reason and link back to the pattern here if you do so. Also, leave me a comment if you notice anything wrong with the pattern.
~Crafty Reba
**New!! This pattern is now also available on Ravelry. You can purchase a PDF of the pattern there if you would like your own formatted copy.
Pattern © Crafty Reason. Please Contact Us for permission if you wish to reproduce any of our patterns.
---