Whenever we visit a beach in the summer, I try to remember to collect sea shells that have washed up on the shore to save as reminders of our trip. For years I let them collect in the various plastic bags, empty water bottles, and other makeshift holders, since I never remember to bring anything to carry them in. Sometimes I also collect sand, especially if it is particularly soft or is a unique color, such as when I went to black sands beaches in Costa Rica and the Azores, or coral if I find it washed up on the shore.
A few years ago I started putting the sand and shells into Ball jars so they can be a nice visual memory reminder of the lovely times I've spent at the beach. Back in 2015 my dad underwent a stem cell transplant following almost a year of chemotherapy for a recurring cancer (mantle cell lymphoma). For his "new birthday" as his medical team referred to his stem cell procedure, I made him the first of these beach memory gifts. For years before that, my mom and dad had vacationed for 2 weeks every August in a sweet little cottage on Nantucket. It was hidden in the wilds, up a narrow dirt lane behind a larger house, on the edge of a bog. My daughter and I would stay with them for a few days every year from when she was 3 to 5 years old. My dad recovered from the cancer after his stem cell transplant, but hasn't been able to make the trip back to Nantucket since then. So I am really glad I was able to put together this wonderful physical souvenir for him and my mom.
I try to collect a variety of shells–different sizes, colors, shapes, and textures. I like the hodgepodge look this creates. Always be sure to check the local rules about whether or not it's ok to bring sand, shells, or coral from the beach you're visiting. Some beaches and countries have rules about bringing these items in or out.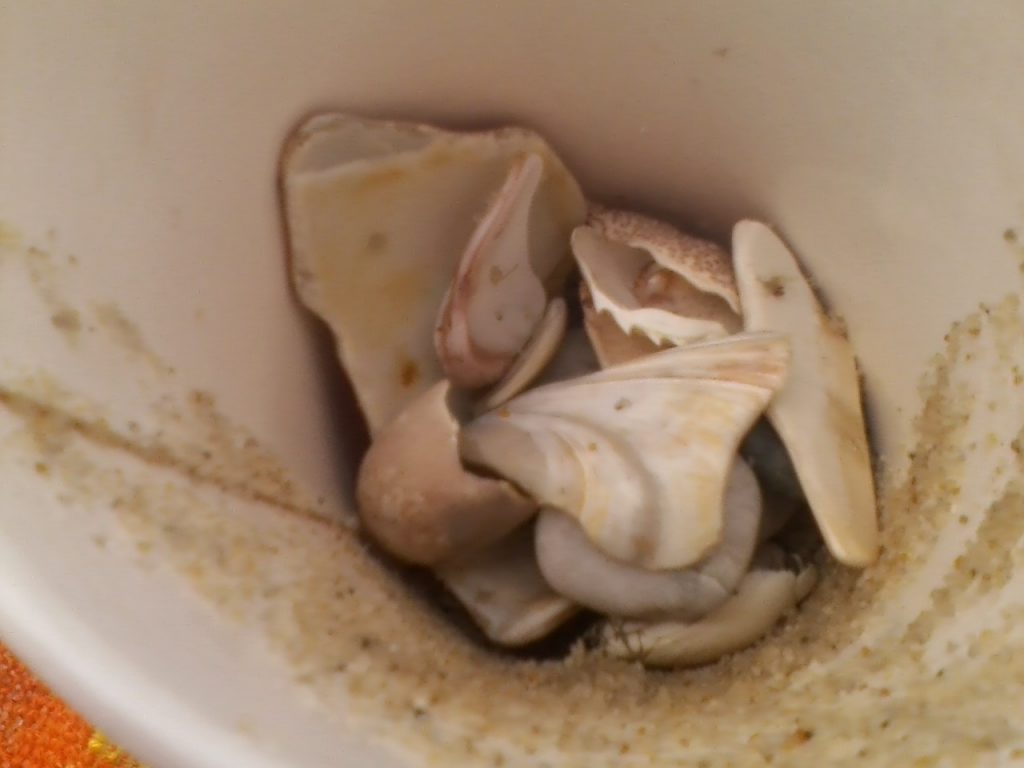 Usually the shells live for years in the corner of whatever is currently serving as our craft area. This year I've been better about putting my jar together sooner. The weather got cool quickly, and I already long for the warmer, sunny days.
Once I'm ready to put the jar together, I gently scrub the shells under warm running water with my finger. I've read that you should use a scrubbing brush, but I feel this would be too harsh for some of the delicate shells we find. I would only do that if I were planning on using the shells as a decoration on a headband or something else that would require a protective coating anyway. Since I'm leaving them natural, I don't mind if there is some sand on them still. I mainly want to scrub away anything that will make them deteriorate in the jar.
Next I soak the shells in a bowl for about a week. I change the water daily or as often as a I remember to, draining away the bits that have soaked off with a colander.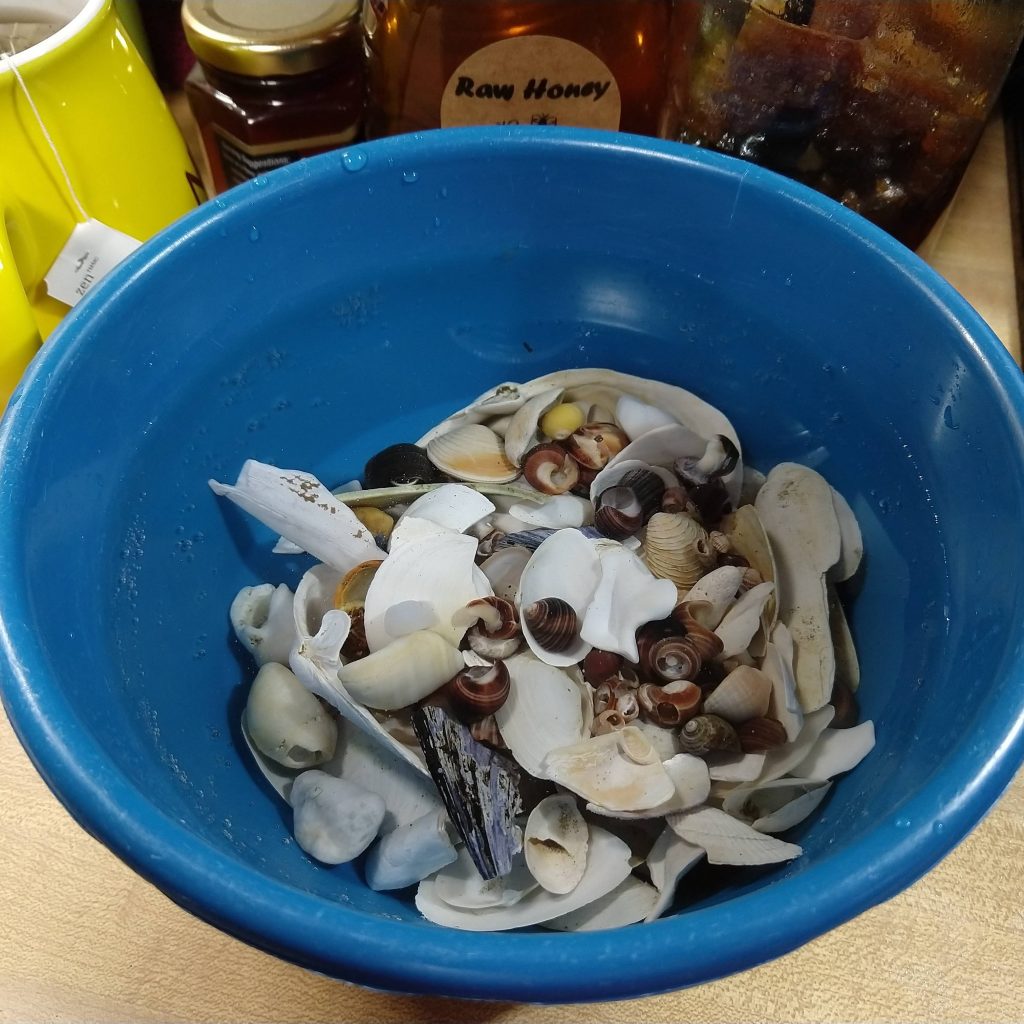 After they're done soaking, I leave them out to dry for a while. Our house is pretty dry because of the pellet stove. I try to give each shell space and give them a couple of layers of towels.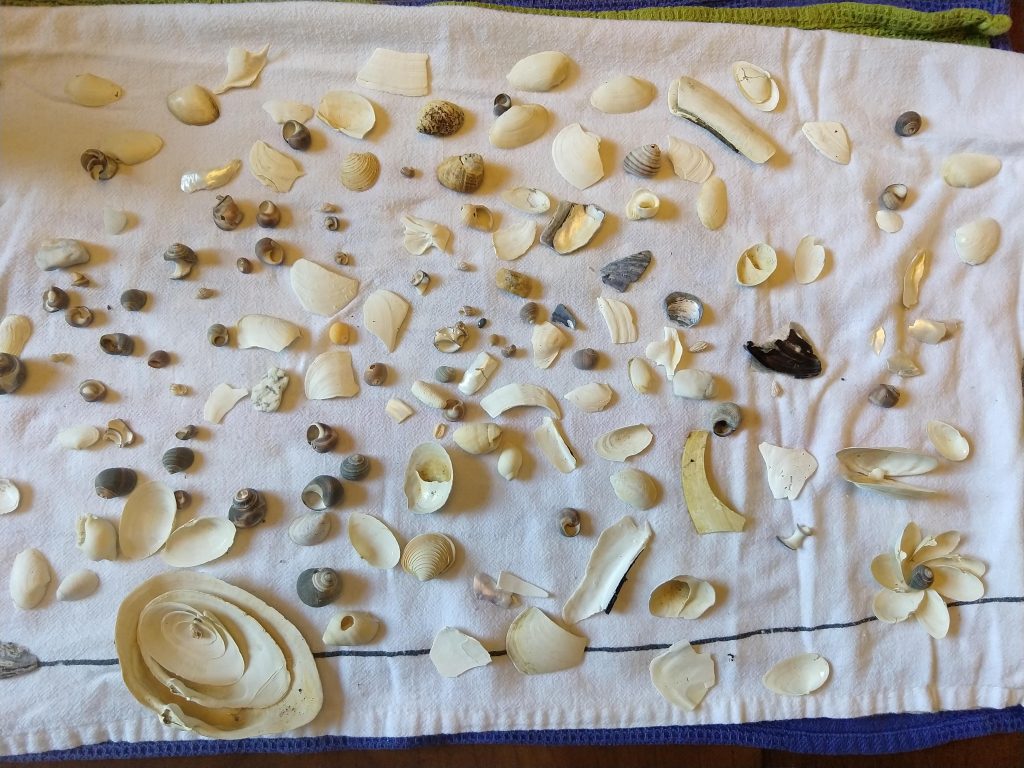 I may add sand at the bottom of the jar, or I may just use the shells, depending on whether I have sand from the same beach as where the shells came from, or whether I want to mix and match. Add the sand first using a funnel, then gently place the shells on top. Don't let them drop in or they may break each other.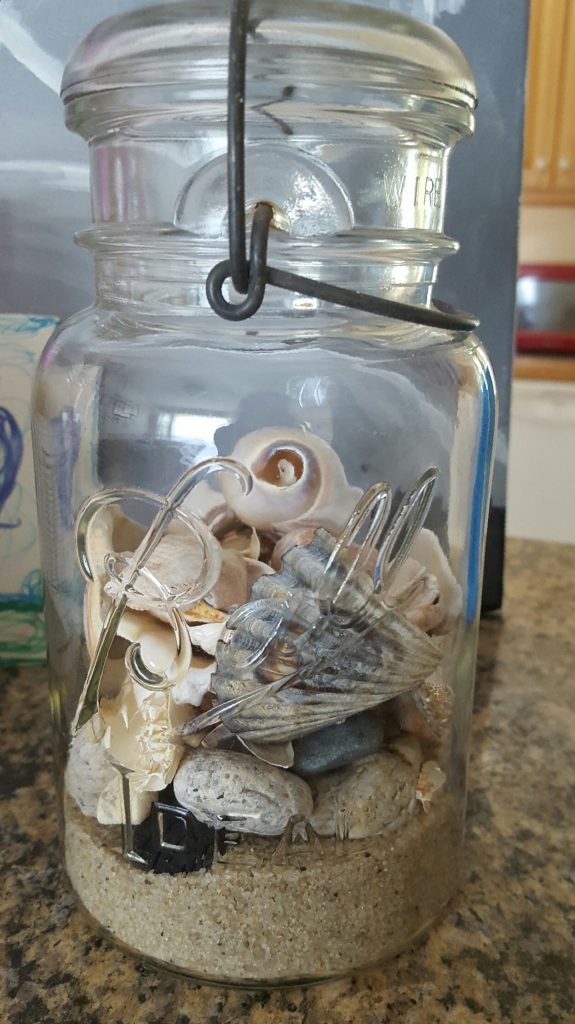 Place your memory jar anywhere in your home where you'll pass by it often, so that every time you do, you'll be reminded of your warm, fun days in the sand and sun!
Happy crafting!
~Crafty Reba
---