My daughter Naomi collects keychains. She likes to clip them to the zippers on her backpack, but lately she has so many that they weigh the front of her backpack down. I wanted to make her something to hold and display her collection (the ones that aren't currently on her backpack). I also wanted it to be easy enough for her to add and remove keychains that she will be able to readily cycle through her collection as frequently as she wants to.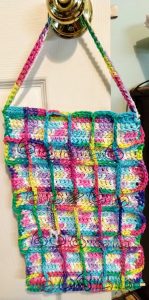 Keychain Display Holder Pattern
Terms/Abbreviations:
Ch: Chain
Sc: Single crochet
Dc: Double crochet
St: Stitch
Sl st: Slip stitch
FO: Finish off

You will need:
I-9 5.5mm hook
5 disposable chopsticks or similar-size and shape dowels (approx. 9″ long)
1 ball Lily Sugar n Cream Fleur de Lavender yarn (yarn A)
1 ball Lily Sugar n Cream Psychedelic yarn (yarn B)
20 key chain holders (I used these heart-shaped paper clips, which securely attached to the chains, and the U-shaped center could be bent out for the keychains to easily be hung on or removed from)
Pattern Notes:
This pattern describes how to make a display holder for keychains or any other small objects that could be hung up.
Back Piece Pattern–yarn A
R1: ch 50. Place marker. Ch 30. Sl st to beg (1st ch). Ch 2 and turn. Work in the row of 30 sts. The ch 50 will become the hanger.
R2-24: dc across. Ch2, turn. (30)
R25: dc across. Ch1, turn. (30)
R26: sc across. FO and weave in end. (30)
Measure and place markers at 3″ vertical intervals for dowel placement; different markers at 1.5″ vertical intervals between and above and below those for chain row placement; and markers at 1.5″ horizontal intervals for chain row placement. Dowels will also be crocheted on at the top and bottom with yarn B.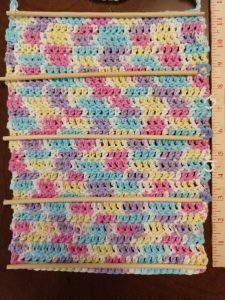 Dowels and Chains Pattern–yarn B
Border Edge
Attach yarn at the top corner opposite from project start. Note: this will yield the "back" sides of the sc sts on the front side of the piece, but I prefer to have the woven-in ends on opposite sides. If having the front of the sc sts showing is important, attach yarn B on the same side at project start. Sc along chain (50 sts), then across top back to starting st (30 sts), then down side (42-46 sts), across bottom (30 sts), and up the other side (42-46 sts). Make 2 sc in each corner to turn. Work around hanging chain and sl st to beginning of color B to end border. Do not cut yarn. Ch1 and turn to start working back across the top to attach the first dowel.
Dowels
Holding the dowel in place, sc over it across the top (30 sts). Sc along corner and down the side to the first marker (5 sts). Turn at st marker and sc horizontally across front of work in the raised ridge of sts. Pick up as much of each st as possible (the keychains will be hanging from chains attached to these sts).
At the other side, turn and sc down the side to the second marker (5 sts). Attach second dowel by scing across and over it as with first dowel. Repeat pattern of alternating dowel and row of sc at markers to end of back piece.
Notes:
If the dowel attachment lines up with the posts of dcs, it's an extra strength bonus. (See picture).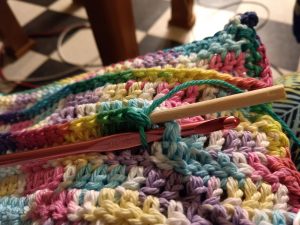 Depending on how the sts line up, an extra st and ch1 may be needed when turning from side to crochet across row to make the transition look like a right angle.
Move down the work in a large "S" pattern. Only one side of each little section will have a second row of sc on the edge. (See picture.)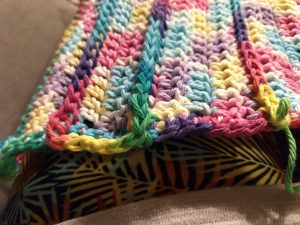 Chains
Attach yarn B to top on the backside, 5 sts from left. Sc into top row with dowel, then ch4-7 and attach with sl st to ridge row 5 sts away from edge (or previous chain in later rows). Continue chaining and slip stitching until reaching the bottom. Number of chs needed will vary with distance between dowels and ridge rows.
At bottom, sl st 5 along dowel, then ch4-7 and attach with sl st to ridge row. Continue chaining and slip stitching until reaching the top. Try to use the same number of chs between each ridge row/dowel. Repeat until there are 5 vertical chain rows. FO and weave in ends. 
Attach holders to each intersection of chain and either dowel or ridge row. 
Please feel free to sell the keychain holders you've made, but please credit Crafty Reason and link back to the pattern here if you do so. Please contact us at craftyreason@gmail.com for permission if you wish to reproduce this pattern. Also, send us a message if you notice anything wrong with the pattern. Happy crocheting!
~Crafty Reba
Learn more about Crafty Reason at http://craftyreason.com/about-us/.
This pattern is also available on Ravelry. You can purchase a PDF of the pattern there if you would like your own formatted copy.
Pattern © Crafty Reason. Please Contact Us for permission if you wish to reproduce any of our patterns.
---